Mazie in Leesport, PA
Mazie is a 10-year-old tricolor Cavachon who is looking for her forever home. She was given to Cavalier Rescue USA by her owner who could no longer care for her. Mazie is a laid-back, kind, and gentle sweetheart who would love nothing more than to cuddle on your lap or go for short walks. She loves being petted and ear rubs. Mazie enjoys occasional collagen chews and NylaBone Healthy Edibles.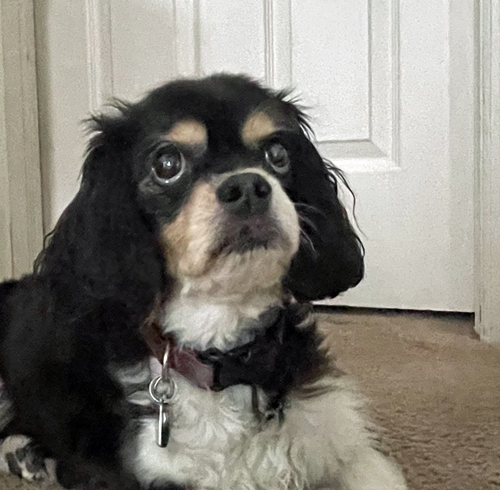 Mazie walks well on a leash; however, she is best suited for shorter walks due to having a luxating patella. Because of this, it is not uncommon for her to limp. While in foster, she has not shown any signs of pain or discomfort and the vet notes that surgery is not needed.
Mazie is spayed and up to date with all her vaccines. She requires frequent ear cleaning due to wax build up. She also has bilateral cataracts, is hard of hearing, and is diabetic. At 14 lbs, Mazie is at an ideal weight. Due to her diabetes, she does drink a lot of water, is let outside frequently for bathroom breaks, and requires insulin injections twice daily with meals. If she needs to go potty outside of the frequent bathroom breaks, she will scratch at the door. Don't let her medical issues stand in the way of all the loving lap time and snuggles you could be enjoying. Mazie is truly a gem!
Mazie is being fostered in Leesport, PA with 3 other dogs and two cats. She does not have any issues with cats, and she fits in well with the pack. She is crate trained and potty trained; however, bathroom regression is not uncommon when being placed in a new home.
If Mazie sounds like a good fit for your lifestyle and family, consider applying today. She has lots of love and snuggles to provide!
If you are interested in Mazie, please complete our online application if you haven't already and then email. Melissa MacMullin at cavalierrescueusapa@gmail.com so she knows to review your application. Thank you!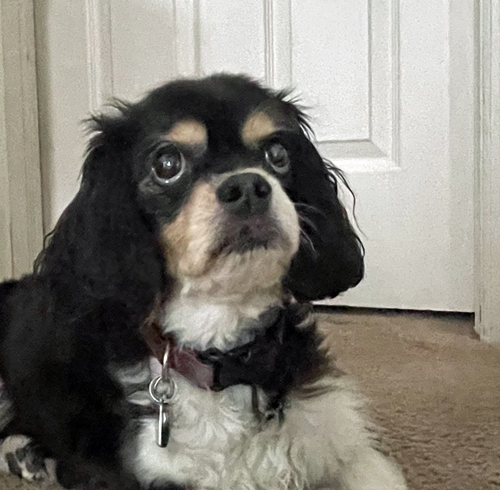 Color:

Tricolor

Age:

10 Years

Weight:

14 lbs

Sex:

Female

House Training:

Yes, but requires frequent bathroom breaks

Temperament:

Shy and sweet; gentle, curious

Recommendations:

A calmer environment; fenced-in yard is preferred

Location:

Leesport, PA

Region:

Northeast

Special Needs:

No

Status:

SPOTLIGHT